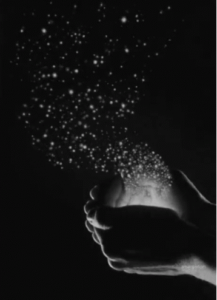 It's been weighing so heavy on my heart to share since we started this journey well over a year ago. As of now, I am not pregnant. In fact, I never thought I would want to have another baby. But when I fell in love and married my husband, we felt a desire to expand our family and so our journey began.
Long story short to this point, we discovered very quickly that our only option was IVF (In Vitro Fertilization).
Let me start by saying our infertility is NOT related to my fitness passion or journey.
It is NOT related to my age (okay well maybe a little).
This is NOT every situation. If it's one thing I've learned it's that every person and situation is different. I'm just sharing MY experience.
Oh- and to be totally honest, I don't even know if all of my facts are correct, again I'm just writing based off of the best of my knowledge (which doesn't say much lol).
The biggest challenge is that it is an extensive process. And if one single step is missed, it can throw off the entire process. One appointment, one pill, one injection, one procedure. And when you are already looking at only a 50% success rate, that's a lot of pressure. I hate to sound negative, but I say ONLY 50% because that's not very high considering the grueling process and the insane amount of money spent.
It blows my mind that insurance covers some pretty ridiculous procedures but most insurance companies don't cover even a small percentage of IVF. Luckily, cost is not an issue for us. We are able to continue to pay for every expense out of pocket and in full. I am so grateful every single day for our home business that allows us to be prepared for unplanned expenses such as this. To this date, we have spent over $60,000.
I will also say this….My husband and I are very level headed people. We are realists and we problem solvers.  So as soon as we found out there was a problem, we just looked for the next step toward a solution.  Then we started to what is necessary and trusted the process.
Trusting the process is hard. IVF consumes your life and sometimes you will second guess every decision you make. Your doc will typically give you a strict calendar of what to take. We set alarms on our phone for every appointment, pill, injection. Nothing can be missed.
So let me tell you a bit about what is necessary for this process. You typically begin with 3 weeks of Birth Control to quiet the ovaries.  For me personally, I developed a cyst during that time that had to be surgically aspirated. Okay no worries, just one minor issue to get through. That was my first surgery of 7).
Then you begin STIMS to stimulate ovaries. Most people produce one egg month.  With IVF they want you to produce as many follicles (which hold the eggs) as possible to give you the greatest chance of developing a successful embryo. That depends on age, medical history, meds etc). The stims last anywhere from 10-14 days, and along with meds you have to inject yourself in the stomach several times each day. You have to be monitored every other day to see when your body is ready, and this is where your fitness starts to be greatly impacted. During this time, your ovaries increase from peanuts, to gold balls, to oranges. So any impact, bending etc can cause the ovaries to twist, and that would be bad. I resorted to walking and light elliptical during this time.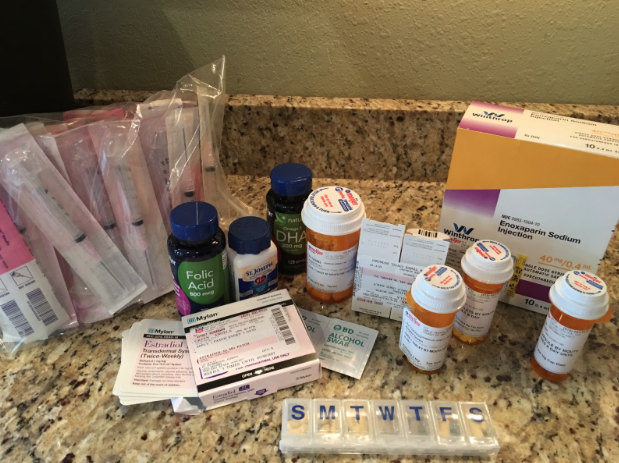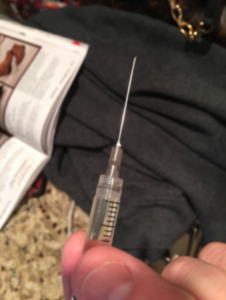 When your doc feels you are ready, you have to give yourself a trigger shot (in the booty) timed 36 hours TO THE MINUTE before your egg retrieval to prepare the body. The trigger shot will help those follicles release the eggs. Women produce various amounts of eggs again depending on many factors. Once the eggs are surgically retrieved, the male provides his deposit and the eggs are fertilized.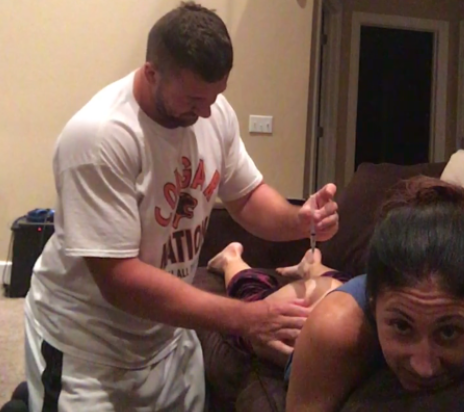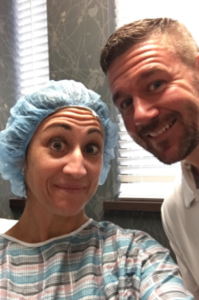 After your egg retrieval it becomes a series of 3 steps, and with that comes a huge waiting game.
    

The fertilization is accomplished by ICSI, where a single sperm is injected into an egg). Not all eggs retrieved will typically survive the fertilization process.

    

Once that happens, then they biopsy to see which ones have made it to the embryo stage, and you will receive another phone call with those results.

    

If you decide to do PGS (Preimplantation Genetic Screening), the embryos are frozen for a few weeks in order to test the material to determine whether or not it would be a viable pregnancy. This will greatly reduce the risk of a potential miscarriage.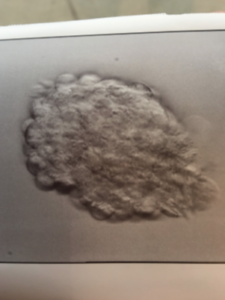 Once you have the finals results (and sometimes unfortunately you come back with zero embryos which means you have to start ALL OVER again), then it is time to begin your body for the embryo transfer. This begins with a series of meds and progesterone oil injections (in the booty) to start tricking your body into thinking it is already pregnant. Other than the emotional piece, this is by far the most painful part of the process. The oil is thick and it is injected into the muscle everyday which causes continue soreness beyond belief. I also had to take a series of injections in my stomach called Lovenox (a blood thinner) which increases bruising everywhere. Focus on the end result!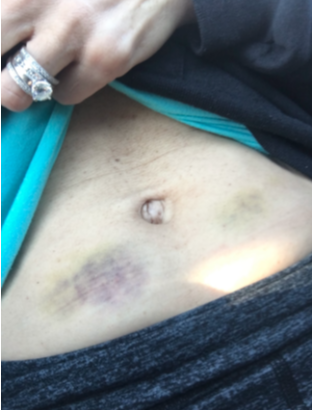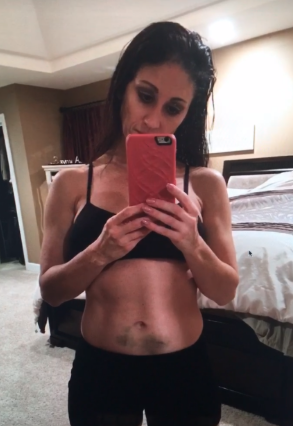 The actual transfer is an amazing experience. There's no sedation, and your partner can be in the room with you. The worst part of that you have to have a full bladder so the doctor can get a clearer picture of the uterus to transfer the embryo. You have the option to transfer 1 or 2 embryos at a time, and that is up to each couple and their doctor's recommendation. During the transfer, the embryo is placed in a catheter in the lab, then the catheter is placed in the uterus. You and your partner get to actually watch everything take place on the ultrasound screen, and as you see the embryo being moved out of the catheter and into the uterus, POOF you are technically pregnant! But getting those little ones to actually implant themselves into the uterus can be the challenge, and that has been the case for us.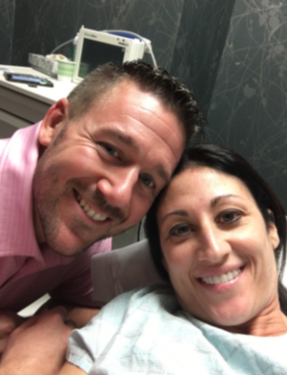 You really won't know anything for 10 days. You are typically put on 48 hours of strict bed rest, then NO exercise for 10 days. On day 10 you get blood work done to check your HCG level (pregnancy hormone) and you WAIT for the call.
The call can be exciting, or the call can be devastating. For us, we have yet to make it past the transfer stage. No one can seem to figure out why those little buggers aren't sticking. Maybe we have gotten the unlucky side of the coin (many, many times).
As we continue our 4th round of IVF, we do not know what the future holds for us.
But we have definitely grown stronger as a couple, and I have met some of the most AMAZINGLY strong women who I admire and love so much. It's a sisterhood. And one thing that has helped me through this process is  by connecting with others who share a similar struggle. If you know anyone who is struggling with infertility, please have them reach out to me at angiekix@gmail.com. I can add them to my private FB group called "Taking Care Of Yourself Through Your Infertility Journey". And as we say in the IVF community, sending you sticky baby dust!
XO-Angie